October 18th, 2017
Photos from our event Building Abolition: Inside/Outside Prison Justice Movements on October 5th: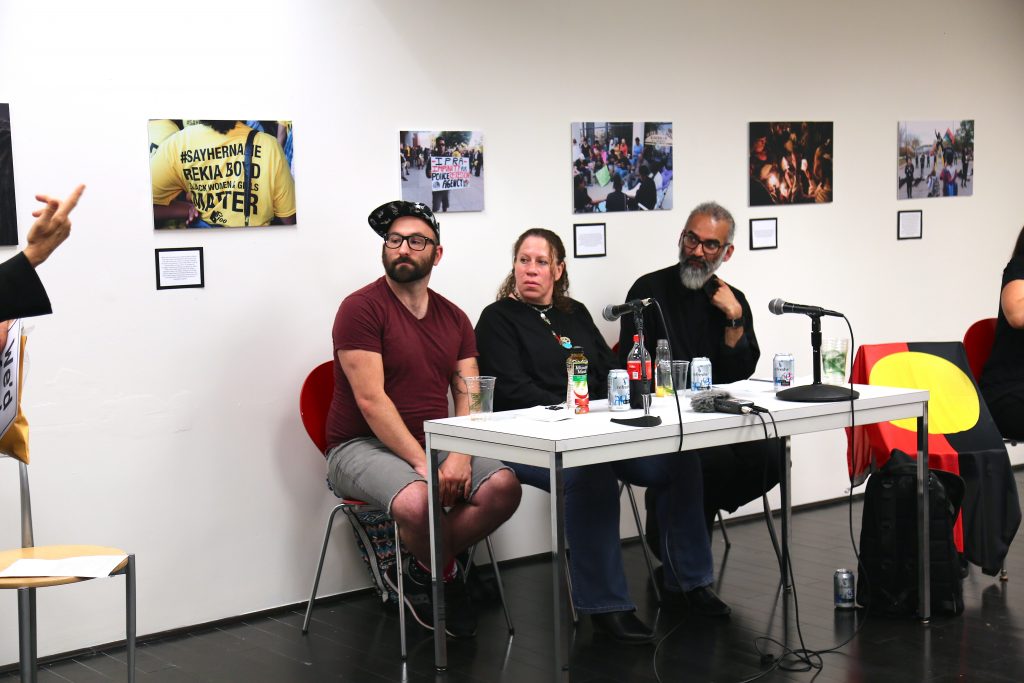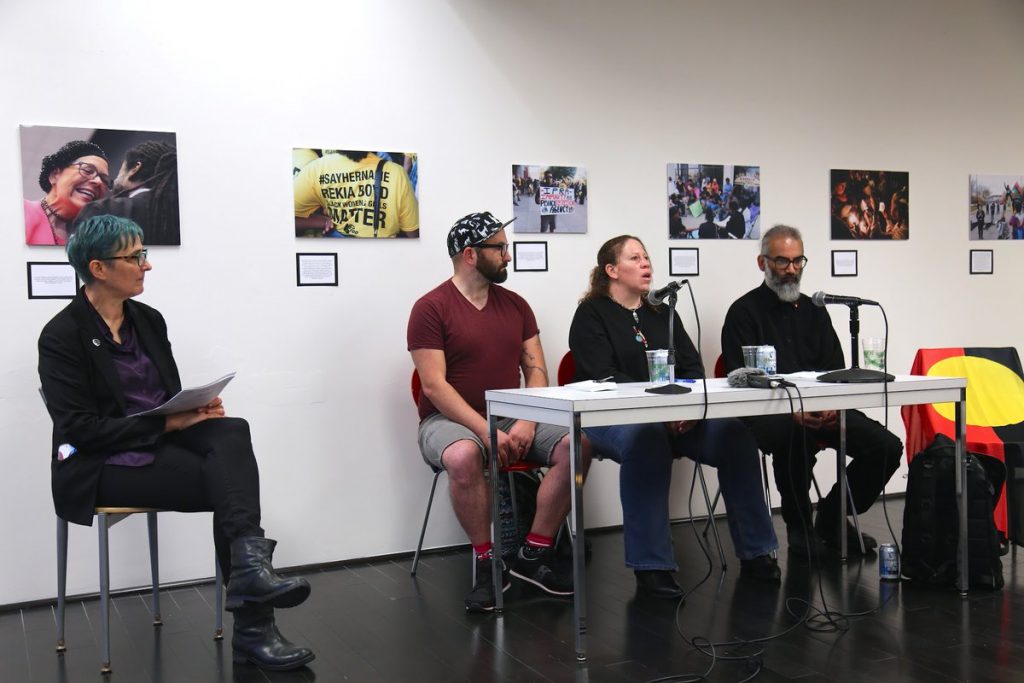 ---
September 18th, 2017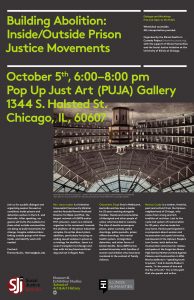 Building Abolition: Inside/Outside Prison Justice Movements
Panel discussion and organizing session coordinated by the Illinois Deaths in Custody Project
Free and Open to the Public
DATE: October 5, 2017 TIME: 6:00 – 8:00 PM
LOCATION: Pop Up Just Art (PUJA) Gallery
1344 S. Halsted St. Chicago, IL, 60607
Wheelchair accessible. ASL interpretation provided.
Join us for Building Abolition: Inside/Outside Prison Justice Movements. 
This event is hosted by the Illinois Deaths in Custody Project (IDCP), recently awarded an Illinois Humanities' Illinois Speakers Micro Grant.
With guest speakers Rev. Jason Lydon, Charandev Singh, and Monica Cosby, this free and public dialogue/organizing session will focus on conditions inside prisons and detention centers in the U.S. and Australia.
After the talk our guests will invite the audience to share their strategies for building movements of change, to imagine collaborations linking outside groups with those inside the prison system and identify work still needed.
Guest speakers include:
Rev. Jason Lydon is a Unitarian Universalist Community Minister and the founder/former National Director for Black and Pink, the largest network of LGBTQ and/or HIV+ prisoners. Jason is a national organizer in the movement towards the abolition of the prison industrial complex. He writes about prison abolition, particularly focusing on ending sexual violence in prison as a strategy for abolition. Jason is a recent transplant to Chicago and lives with his boyfriend and their dog and cat in Rogers Park.
Charandev Singh lives in Melbourne Australia and has been a leader for 25 years working with and alongside families, friends and communities of Aboriginal and other people of colour who have died in custody. The sites of deaths encompass prison, police custody, police shootings, police pursuits, prison officer shootings, the mental health system, immigration detention, and other forms of border deaths. Since 2009 he has worked intensively with families of women and children who have been murdered in the context of family violence.
Monica Cosby is a mother, feminist, poet and activist from the Uptown neighborhood of Chicago, who comes from a long and rich tradition of activism. Lost to the cycle and system of incarceration for 20 years, she has made her way home. Monica participated in a symposium about women and incarceration at Loyola University; volunteered at the Uptown People's Law Center, both before her incarceration and since her release; and spoke at the Forgotten Moms Vigil held by Mothers United Against Violence and Incarceration in 2016. Monica believes in "speaking truth to power," and in Assata Shakur's words, "in the sweat of love and the fire of truth." It is in this spirit that she speaks and writes.
This event is organized by the Illinois Deaths in Custody Project – http://ildeathsincustody.org/ with the support of the Illinois Humanities and the Social Justice Initiative at the University of Illinois at Chicago. The Illinois Deaths in Custody Project (IDCP), seeks to document, archive, highlight, and mourn those who have lost their lives while in custody.
Illinois Deaths in Custody Project
ildeathsincustody.org